SoLo Bars for Sustained Energy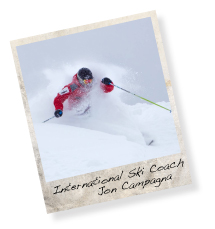 From athletes to weekend warriors, everyone needs energy - and SoLo Bar delivers – race after race, climb after climb, hill after grueling hill. SoLo Bar is an excellent energy bar to use before, during and after physical activity, providing sustained energy benefits and great tasting nutrition for people of all ages and skill levels due to its lower glycemic response.
Whether you are jumping, twirling, running, pedalling, pushing, pulling, walking, or typing, SoLo Bar was designed to help you maintain healthy blood sugar levels so you don't experience the "spike and crash" that occurs when blood sugar levels go up and down. By avoiding the roller coaster effect, SoLo also helps to prevent exercise-induced hypoglycemia (blood sugar crashes) and reduce glycogen depletion from the muscles and liver during exercise. Solo also contains 10-13 grams of protein, providing a full amino acid profile to help rebuild those muscles after exercise.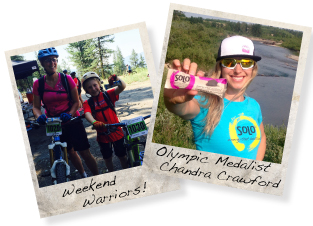 SoLo Bar doesn't contain any sugar alcohols or artificial sweeteners, meaning it digests easily. That's because at SoLo, we don't believe in empty calories.
Here is what some of the world's top athletes have to say about SoLo:
"Between training sessions in the gym and racing heats on the hill, I keep myself fuelled with SoLo Energy Bars. They come in five yummy flavours that help sustain my energy levels without having to suffer from a sugar crash." – Kelsey Serwa, Silver Medalist at the 2014 Sochi Winter Games, Ski Cross World Champion, X-Games Gold Medalist.
"I have incorporated Solo Bars into my pre race nutrition and am finding a difference!! They are providing the energy to keep pushing my body right to the finish line." – Julia Ransom, Canadian National Team Biathlete.
By far the best tasting and performing energy bar. SoLo gives me the energy to compete at high intensity…especially for the final push at the end of the game." – Chuck Kobasew, Former Right Winger for the Pittsburg Penguins, NHL.
"As a medical doctor with type 1 diabetes, I rely on SoLo Bars when competing internationally to fuel me before and during my race without spiking my blood sugar. With 10-13g of protein, I stay energized longer, without the spike and crash." – Dr. Delilah Lisa Topic, Hon Bsc, MD, FRCPC, Bronze Medal Winner, Torino, Italy, August 2013.
"I love SoLo bars because it is a small, easy snack that gives me lasting energy without the spike and crash that some high sugar bars have. I keep a few bars in my desk at work, car and in my track bag so that I can have a healthy pick-me-up when I need it or to have right after a workout." – Megan Metcalfe, Canadian Olympic Distance Runner.
Other SoLo Powered Athletes and Sports Teams Include:
Chicago White Sox, Cincinnati Reds, Colorado Avalanche, Detroit Tigers, Harvard University Men's Ice Hockey, Indiana Pacers, Milwaukee Brewers, Milwaukee Bucks, Minnesota Timber Wolves, Northeastern University Men's and Women's Basketball, Orlando Magic, Providence Bruins, Sacramento Kings, St. John's Ice Caps, Toronto Raptors, Toronto Blue Jays, University of North Dakota Men's Hockey, Vancouver Canadians, Washington Capitals, Washington Wizards, Winnipeg Blue Bombers, Winnipeg Jets.
Larsen Jensen (American Olympic Silver Medalist – Triathalon), Paul Tichelaar (Canadian Olympic Triathlete), Annett Kamenz (German Triathlete), Adrian Lambert (Canadian Mountain Running Champion), Keith MacCullough (#1 Canadian Paraglider), Nathaniel Miller (Canadian National Water Polo Team Member), Josh Simpson (American Marathon Runner), Rebecca Stallwood (Canadian Cross Country Runner), Brian Torrance (2008 BMO Kelowna International Marathon Champion) and Mark Vollmer (Canadian Mountain Runner).
Interested in becoming a SoLo Ambassador? Click here for details.