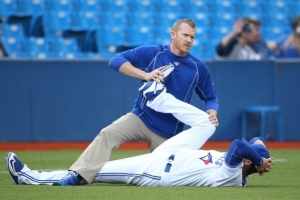 The Toronto Blue Jays are in their first post-season in 22 years and Canadians across the country are going wild! Some businesses are temporarily closing, or bringing in TVs for their employees to watch their afternoon games against the Texas Rangers!
The Blue Jays have put forth a tremendous effort to reach the post-season this year, and as Chris Joyner, Major League Strength and Conditioning Coordinator for the Toronto Blue Jays, explains to the Huffington Post today, SoLo Energy Bar had a small, but integral part to play.
"For quick snacks, we have energy bars available 24/7, such as SoLo GI energy bars. They're great for when the guys aren't hungry for a full meal or for a snack before or during the game."
We're proud to provide our low glycemic index energy bars to the Toronto Blue Jays, and as a Canadian company, working with a Canadian professional baseball team, using science that was developed in Canada to create our energy bars - this post-season is truly a Canadian achievement!
"SoLo bars are ideal for sports performance... That's what's great about the bars," Chris explains. "Most of the time, we want the guys having long-lasting energy that will get them through a training session or a game. A quick-releasing sugar like a doughnut isn't going to have much staying power!"
Utilizing the science of the glycemic index, SoLo Energy Bars provide long-lasting sustainable energy to get all athletes, whether they're professionals like the Blue Jays or even casual adults, teenagers, or children who need energy that sustains them throughout their workout, sporting events, and day-to-day lifestyles. (Click here for a list of some of SoLo-Powered athletes!)
One of our secret weapons is the fact that our bars are friendly for those with diabetes and they are also gluten-free. As Chris mentions:
"A few of the guys have diabetes or are more in tune with how food affects their bodies. They tend to be more careful about choosing the right types of carbs."
Last but not least, our bars taste great, which is not a common attribute among energy bars on the market today.
"The players' fave flavour changes year to year. Over the last few years, SoLo's Peanut Power and Chocolate Charger are the way to go. Lots of guys are into the yogurt coated Lemon Lift one too."
We will be cheering on the Blue Jays throughout the post-season and hope you will too! While you're cheering them on, don't forget about your own diet, and if you are rushed to get out of the office to watch the game, grab a SoLo Energy Bar to keep you sustained all night! If you act now, while the Blue Jays are in the post-season, we are even offering a 20% discount using promo code: GOJAYSGO
Comments