November is Diabetes Awareness Month
– one of our favourite months of the year here at SoLo. In the spirit of Diabetes Awareness Month, we are honoured to introduce you to Dr. Delilah Topic and Kevin Kellerman, two inspiring athletes who don't let living with diabetes get in their way of success. These two athletes live, train and compete while managing their diabetes with low glycemic nutrition, and are a perfect example of why we love what we do here at SoLo!
Dr. Delilah Topic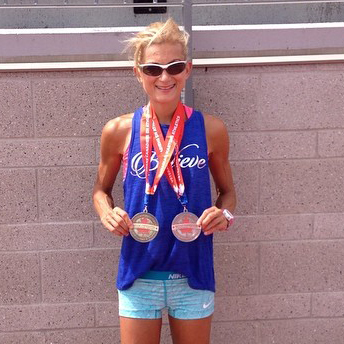 Diagnosed with type 1 diabetes at the young age of 14, Dr. Delilah Topic has been a highly competitive athlete her whole life. After many people told her she would no longer be able to compete and train at the same level after being diagnosed, Delilah took her frustration and channeled it into determination to train even harder. Today, Delilah is an accomplished competitive runner, competing at the World Masters Athletics Championships in Perth, AU earlier this month, and winning gold in numerous national and international competitions throughout the year. Delilah is also a Medical Oncologist with the BC Cancer Agency and Clinical Assistant Professor at the University of British Columbia. Read more about Delilah's story here.
Kevin Kellerman
Like Delilah, Kevin Kellerman was also diagnosed with type 1 diabetes at a very young age. An active young man with drive and determination, Kevin started in mixed martial arts (MMA) to channel his love for athleticism and disciplined training, using low glycemic nutrition with high amounts of protein to help him maintain his energy and blood sugar levels while also maintaining target weight during the off season. Kevin officially began his amateur MMA career in 2013 in the Bantamweight division, winning his first professional fight in June 2016. Kevin's next professional fight is slated for February 2017. For more information about Kevin, click here.
Comments