Gift Ideas for Mother's Day
Growing up, I used to love making homemade gifts for my mom on Mother's Day. As goofy as some of them were, my mom always loved receiving them and appreciated the time and effort I put into them. As I got older, I began to realize that those were the gifts my mom cherished most, and as a result, I began to think "outside the box" in terms of gift ideas for both my mom, and all of the other special women in my life on Mother's Day!
The best part about gifts from the heart is that you do not have to spend a lot of money in order to let your mom know she is appreciated. Here are some great gift ideas to show your mom how much you love her this Mother's Day weekend, without breaking the bank:
Plant A Smile on Her Face – to Last Year After Year!

Instead of giving mom a bouquet of flowers from a local flower shop, head down to your local greenhouse or hardware store and purchase one or two ever-blooming perennial plants. Not only are perennials less expensive than fancy bouquets of cut flowers, they also bloom year after year, making them a gift that keeps on giving. If mom's garden space is limited, look for potted varieties that can easily be moved around from patio to patio. Be sure to ask the staff which ones are best to flourish in your climate.
Enjoy the Fresh Air and Frame a Keepsake

The only thing my mom ever asked for on Mother's Day was to spend the day with family. And what better way to soak up the spring air than to grab a picnic basket and your running shoes, and head to a local walking or hiking trail! While on the trail, get a friendly passer-by to take a picture of your family or group with your smartphone. Then, surprise mom a few days later with a printed and framed copy of your family enjoying the day together. That way, she will always have a close reminder of that beautiful spring day you all spent together!
Make the Little Things Count

Make your mom a homemade card. Jump in the kitchen and (attempt!) to make a healthy breakfast. Fire up the BBQ and make your mom's favourites for dinner. Help your mom with that chore she has been nagging you with for months. Fix that broken planter that she was almost ready to throw away. Wash and vacuum her car so when she goes to leave for work in the morning, she finds it sparking clean. You can be sure that mom will appreciate any of these things.
Finally, time is a gift that we all wish we had more of, so be sure to spend quality time with your mom; even if that means mowing the lawn or raking the leaves!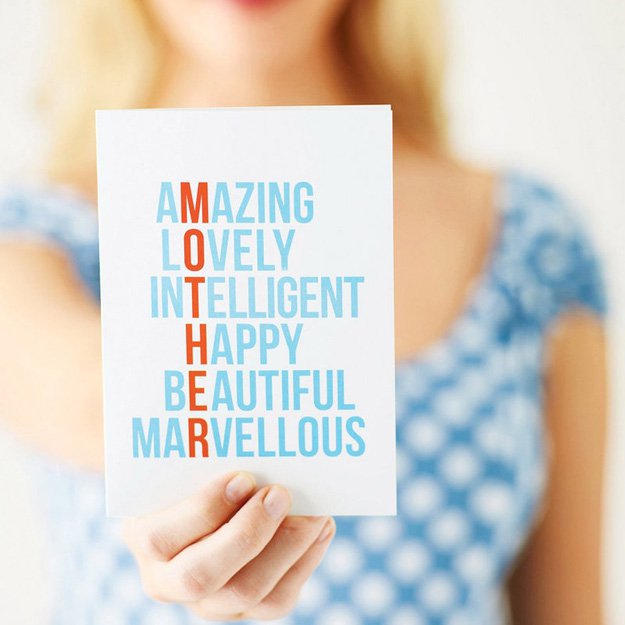 Comments